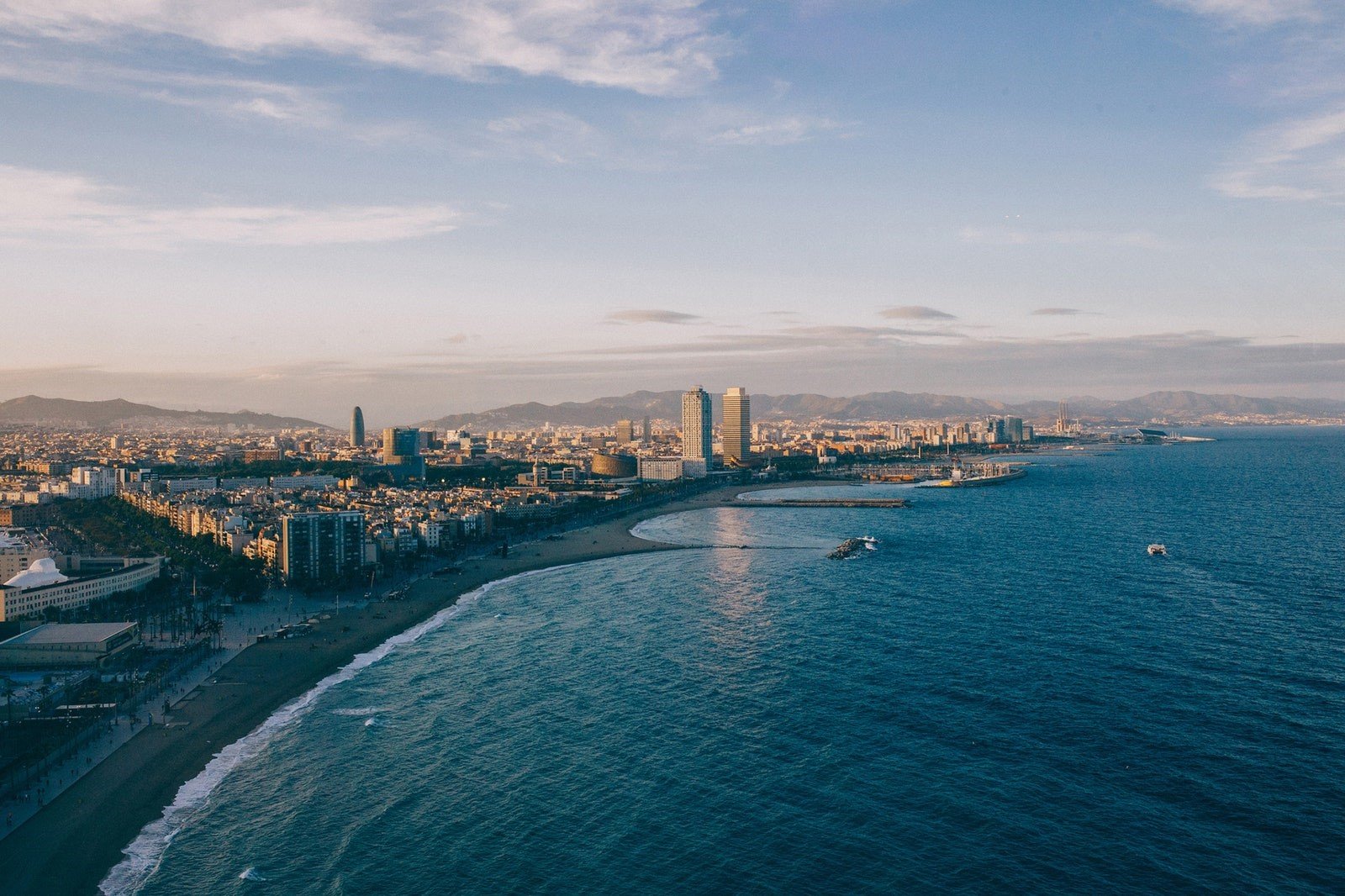 29 Jun

Summer is coming to Barcelona again! Leisure plans not to be missed this summer

Barcelona has something to offer all year long. But in summer there are several seasonal activities you won't want to miss: culture, traditions, beaches, municipal swimming pools, points of interest and much more. Explore the different possibilities we offer below. Enjoy them while you can.

The Festes Majors

With summer at its peak, the streets of Barcelona are buzzing with activity. This is the time of the Festes Majors, the great patron saint festivals that bring communities together around Catalan traditions. For several days, concerts, Castellers, giant processions, correfoc (fire runs) and decorations enliven and colour the streets of Barcelona. The festivities are an excellent way to immerse yourself in Catalan culture and joie de vivre. To make sure you don't miss a thing, we've selected three of the city's most emblematic Festes Majors.

Consult the Festes Majors Agenda.

Festa Major de Gràcia: Festival of colours and village atmosphere… 

The Festa Major in the neighbourhood of Gràcia, an old village now part of Barcelona, opens the ball in mid-August. It is, without a doubt, one of the best-known and most spectacular festivals in the city. The whole neighbourhood comes together to decorate its streets in the most original and fun way, so that every year the district turns into a fantastic theme park with impressive decorations made from recycled materials. In addition, from August 15th to 21th, there are concerts every night, activities for children during the day and much more!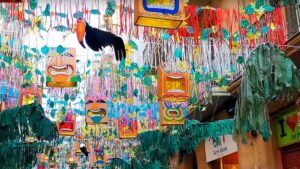 © Street guarnit during the Festes de Gràcia
Festa Major de Sants: In the heart of Catalan traditions…
The Festa in the neighbourhood of Sants is one of the liveliest, a journey to the heart of Catalan culture! The festival starts on August 19th to 27th, with the Cercavila, a fantastic parade that immerses us in Catalan folklore, with its gegants (giants), capgrossos (big-heads) and dracs (dragons).  The festivities continue with the Castellers, the famous human towers that can reach up to seven or eight storeys high, traditional concerts (habaneras, sardanas, Catalan rumba) and the Correfoc Devils, who dance and chase the spectators with their flaming pitchforks…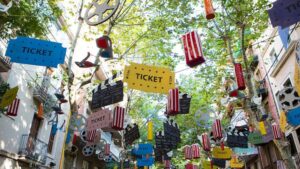 © Photo: Maria Dias Festes of Sants 2019: Carrer Vallespir de Dalt
Festes Majors de Sant Roc – Barri Gòtic: A trip through time…
Held in and around Plaça Nova since the 16th century, these are the oldest neighbourhood festivals still celebrated in Barcelona. This is the occasion to attend parades, shows and music of Catalan popular culture, in the surroundings of Barcelona Cathedral. In fact, the Festes of Sant Roc have been declared a Heritage Festival of National Interest by the General of Catalunya. This year, the Festes Majors de Sant Roc takes place from August 12th to 16th.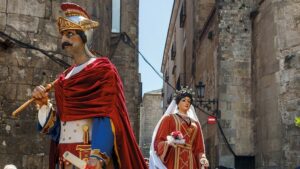 © Giants of the Plaça Nova at the Festes of Sant Roc
Music in Barcelona
Summer in Barcelona is rich in cultural events, and music and theatre festivals stand out: from the Festival Jardins de Pedralbes and Mas i Mas to the Grec Festival of Barcelona, among many others. Let's take a look at the most important ones, so you can prepare your best excuse to visit Barcelona (once again).
Festival Jardins de Pedralbes – From July 11th to 27th
Among fountains, statues and plants, and next to a sublime 1920's building, you will find national and international artists of great renown, such as James Blunt, Simply Red, Crystal Fighters, Jessie J, Ben Harper & The Innocent Criminals, and great timeless artists such as Tom Jones, The Beach Boys, Il Divo, Paul Anka, Rosario or Diego El Cigala. In addition, the gastronomic offer is worthy of the place, and both in the village and on the secret terraces you can taste tasty recipes for a truly perfect summer night. The festival also has a family day, with workshops and musical activities designed for families.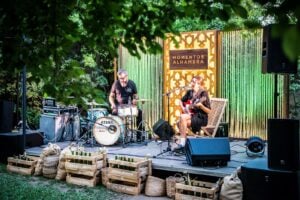 © Edition 2022 of the Festival Jardins Pedralbes
Mas i Mas – From July 27th to September 2nd
The annual Mas i Mas festival offers a programme packed with jazz, swing, blues, soul and flamenco. This year's stages will be the Palau de la Música Catalana and the historic venue Jamboree, the techno club Moog, the club Paral-lel 62 and the flamenco venue Tarantos, all located in the city centre.  Jerry Bergonzi, Carmen Doora and Somorrostro are some of the artists who will be performing at the 2023 edition, alongside some of the best Catalan and European artists. The spectacular setting, the exceptional team of artists and teachers and the varied programme of activities contribute to an unforgettable experience for all participants.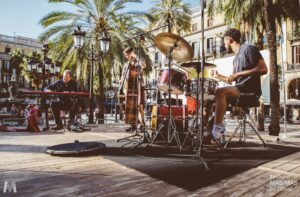 © Photo: Marta Vilardell and Oscar Sanz Mas i Mas Festival: Performances of students in the Royal Square
Mahou Rock & Grill – Poble Espanyol – Every Thursday in August
The Mahou Rock&Grill is a festival to enjoy rock music in the open air, tasting delicious burgers and Mahou beer aged on tap, a beer with great personality and flavour. From the stage you will hear the sounds of Tina Turner, Brian Adams, Iron Maiden, AC/DC, Guns n' Roses and Queen, performed by highly reputable tribute bands, who impressively emulate their idols. The show will feature live performances by 10 bands on Thursday nights this summer.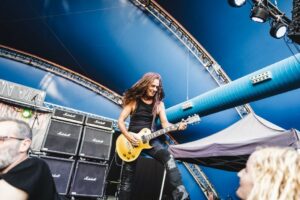 © Mahou Rock & Grill – Poble Espanyol
Grec Festival – From June 24th to August 13th 
The Grec of Barcelona is a theatre, dance, music, circus and film festival with a long tradition (this year it celebrates its 46th edition). It is not only the main cultural attraction of Barcelona's summer season, but also a benchmark on the European festival calendar. Throughout the month of July, you can enjoy 88 shows in full harmony with the artistic spirit of Barcelona. The Grec Festival will also stage shows in unique and emblematic venues, such as the modernist Sant Pau site, the Dipòsit del Rei Martí and La Model.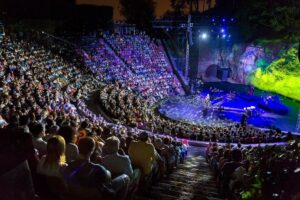 © The Grec theater of Montjuïc | Josep Aznar
As every year, here comes a new edition of Música als Parcs. A series of open-air concerts held throughout the summer in different parks in Barcelona. These concerts have been held for 15 years and offer music of the highest quality. Moreover, it's great to sit in the evening in a nice place with good music, friends or family. It's an ideal way to enjoy a sunset in the open air while savouring the mix of nature sounds and classical music.

© Musicians in the Parks
Brunch in the Park' Barcelona is an open-air event that allows electronic music fans to enjoy excellent sessions in the daylight, without having to stay up all night. Located in the heart of Montjuïc Park (in the Joan Brossa Garden), amidst green spaces and breathtaking views, Brunch In the Park is the ideal setting to celebrate your Sunday with family or friends. The program includes international and national artists. Brunch is accompanied by another concept, that of family conviviality. Here, children have as much fun as adults, and at the Petit Brunch, adults and children enjoy a good lunch together and activities such as bouncy castles, table football, workshops and much more.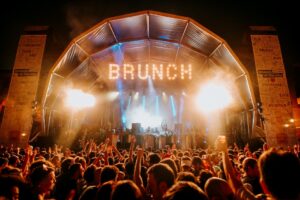 © Photo: Brunch Electronik Barcelona
Boat trips and parties along the coast of Barcelona
One of Barcelona's attractions is its coastline, and this experience will allow you to make the most of it. You'll enjoy the sea while sailing on a luxury yacht, taking in breathtaking views of one of the most beautiful cities in the Mediterranean. And, weather permitting, you can even take a dip in the sea. During the trip, drinks (water, soft drinks, beer and cava) and snacks are available. For more information, please contact reception.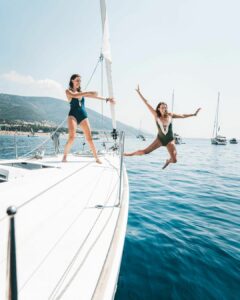 © Barcelona Boat Party
Open-air cinemas
Going to an open-air cinema is an original activity for your summer in Barcelona. Many venues in the city offer screenings, with atmospheres and themes that vary from one place to another. Action, animation, comedy, independent cinema, short films… The choice is yours!
Mecal Air, open-air cinema – From June 29th to July 9th
Mecal Air takes place in the Jardins of Elisava, near the Design Museum and the Gloriès Tower, from July to September. Barcelona's famous short film festival returns this year with 15 open-air evenings. There's something for everyone, from comedy and sci-fi to documentaries and horror films, and each evening revolves around a cinematic theme. Please note that the short films are not recommended for under 16s. Sessions start at around 9.15pm, but we recommend you come earlier, as tickets are available from 8pm. And to accompany these evenings under the stars, a bar will be serving a variety of drinks, including gin and tonics, beer and vermouth.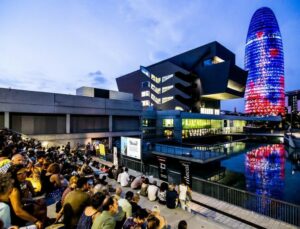 © Mecal Air
Cool Cinema – Sala Montjuïc  – From June 30th to August 4th
For a refreshing open-air session, head to the gardens of Montjuïc Castle. The Sala Montjuïc screenings are a must on Barcelona's summer evenings. For some years now, the open-air cinema on the hill has been in a particularly attractive and cool setting. As well as enjoying a breathtaking view of the city, you'll discover a particularly pleasant atmosphere, ideal for a picnic before the screening. The program is eclectic, with recent films and great classics. And the best thing: each session starts at 8.30pm with a concert, just in time for nightfall!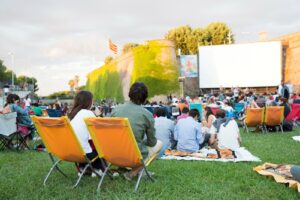 © Sala Montjuïc
Free cinema on the beach in Barcelona – – From June 30th to August 10th
A change of scenery and atmosphere: feet in the sand, the sea in the background, for a film session in a decidedly summery atmosphere! The open-air cinema on Sant Sebastià beach, the Cinema Lluire, offers a season of avant-garde and alternative cinema. The sessions begin at 9 p.m. with a short concert, followed by a short film and then the film.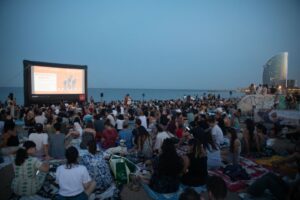 © Open-air cinema on the beach of Sant Sebastià in a previous edition / ARCHIVE
Cultural events in Barcelona
Once again, Montjuïc is the place to be. With its explosion of lights, music, colours and, of course, water, the magical fountain puts on a fun show every summer. Visitors are not only amazed by the spectacle itself, but also by its idyllic location, at the foot of the grand staircase leading up to Montjuïc. This setting, combined with the excellent weather, makes many people want to enjoy a picnic during the show. The show is not to be missed, as it takes place 5 times a week. From Wednesday to Sunday from 21:00 to 23:30, the shows take place every half hour.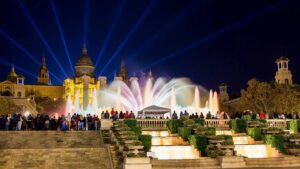 © Tourists watch a light show at the Montjuic fountain
Magical rooftop nights
For those who want to experience a romantic moment during their holidays in Barcelona, we invite you to discover the Magic Nights concert series on the dragon-shaped rooftop of the epic Casa Batlló. The concerts take place from Monday to Sunday.
© Casa Battló
In the same style, you can also enjoy the recent Jazz Nights at La Pedrera (From June 8th to August 18th).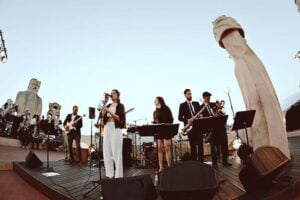 © Jazz Nights at La Pedrera
Permanent Exhibition: The world of Banksy
This exhibition is  fully dedicated to the work of Banksy, one of the biggest names in street art. His art mixes culture and politics, and is often criticised when he attacks authority figures. After its success in Paris, the exhibition The World of Banksy is moving to Barcelona, to the Espai Trafalgar, near Plaça Urquinaona.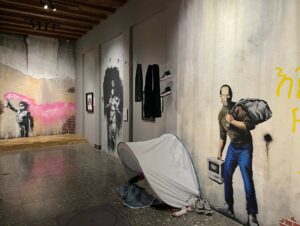 © Steve Jobs as seen by Bansky in the Calais camp in December 2015 – Bansky Museum Spain
Casa Vicens, Gaudí – Summer Vicens
Casa Vicens, Gaudí's first house and the architect's first major work, offers visitors one of the key pieces in Antoni Gaudí's artistic career: the work that marked his starting point, an architectural jewel that was declared a UNESCO World Heritage Site in 2005. Built between 1883 and 1885, commissioned by Manuel Vicens, Casa Vicens is one of the first masterpieces of Modernisme, the anticipation of Gaudí's later work and a living example of the air of aesthetic renewal that was blowing through Europe at the end of the 19th century.
The Summer Vicens offer includes: free visit to Casa Vicens Gaudí, audio guide available in 15 languages, delicious handmade mango ice cream and access to the temporary and permanent exhibitions.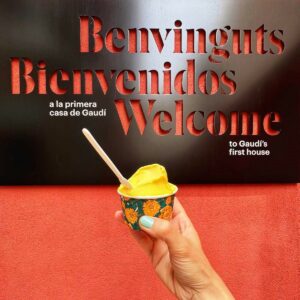 © Casa Vicens, Gaudí – Summer Vicens
Casa Museo Amatller – Modernist Nights
Casa Amatller is one of Barcelona's buildings located in what is known as the block of discord, created by Puig i Cadafalch, Gaudí's contemporary in Catalan modernist Barcelona. In a dynamic and dramatised way, you will visit the corners of the house, experience the day-to-day life of the Amatller family in the company of the hosts and get to know this great family of chocolatiers, steeped in history and tradition, through the house. All accompanied by a glass of cava.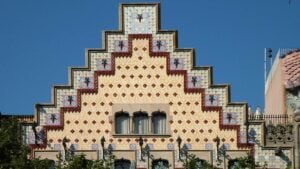 © Casa Museo Amatller
Shopping and summer sales
La Roca Village, the best brands just a few kilometres from Barcelona
La Roca Village is an incredible place for lovers of luxury shopping. Located 40 minutes from Barcelona, in this shopping centre with pedestrianised streets and Mediterranean style, you'll discover more than 160 top brand shops with discounts of up to 60%. As well as offering a cosy atmosphere to spend the day and enjoy a wide range of gastronomic offerings in the open air and on the outskirts of the city.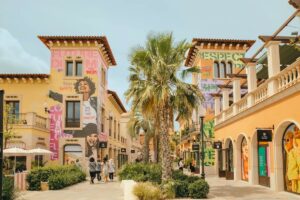 © Roca Village
The best beaches for this summer
Gavà beach, as far as the eye can see
Gavà beach is just beyond the maritime district of Gavà Mar. It is known as Plage de la Pineda, a name that comes from the thick pine forest that stretches from the Castelldefels motorway down to the sand. Along the beach there are all kinds of services. There are several children's play areas and a library, as well as numerous ramps to enter the water and an amphibious wheelchair service for people with reduced mobility. The central part of the marina is flanked by a pleasant promenade that winds through dunes and pine trees. The promenade has several bars and restaurants as well as parking areas.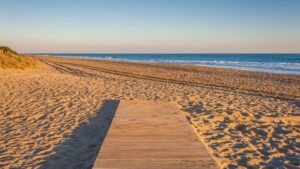 © Gavá Beach
Castelldefels beach, ideal for families
If you continue a little further along the coast, you will come to Castelldefels beach. Castelldefels beach is just a short drive from Barcelona and promises a relaxing getaway away from the hustle and bustle of the city. Long and spacious, there's plenty of room for everyone, so there's no need to worry about it being overcrowded like city centre beaches can be. The sand is fringed by shallow waters, perfect for swimming and relaxing. Take advantage of its long coastline to stroll along and, at the end of the day, watch a magnificent sunset overlooking the mountains.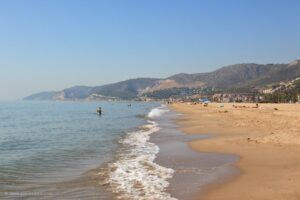 © Castelldefels Beach
LGBT events in summer
Barcelona, as an open city, will celebrate Pride for more than just one day. In July, a few days after International Gay Pride Day, the city will host Barcelona Pride from 3 to 15 July 2023.
Since 2008, PRIDE BCN has been run by volunteers from the queer scene, offering the city a week of pure celebration culminating in a colourful parade. The PRIDE BCN programme includes concerts, talks, debates, films and exhibitions to raise awareness and make people think about this important issue.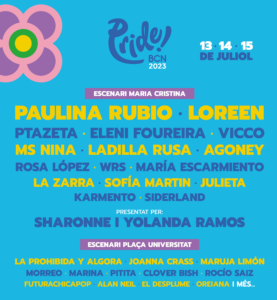 © Pride! Barcelona 2023
Musical Drags at Cangrejo Raval
El Cangrejo is a cocktail bar and nightclub located in the Raval where you can enjoy hilarious drag shows in a tolerant, diverse and liberal atmosphere. It is a small venue that fills up to the rafters and where weekend nights begin with a naughty and naughty show performed by one of the drags of the moment. After the show, El Cangrejo turns into a fun party room where you can dance to the best hits of the moment as well as to all-time classics that will make for a fun night out with friends.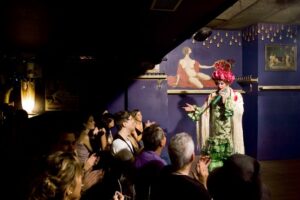 © El Cangrejo
Drag is Burning – Art exhibitions about drag performers
Drag is Burning is an art project by Rubén Antón, graphic designer and illustrator, in collaboration with: Ana Prado, photographer; Borja Casterad, painter; Nuria Vazzana, illustrator and graphic designer; Javier Navas, dressmaker. The collective now presents its second exhibition at Punto Bcn, in the nerve centre of Barcelona's Gaixample district. It includes painting, fashion, photography and illustration… All these disciplines have their eyes on the Drag movement in contemporary Barcelona.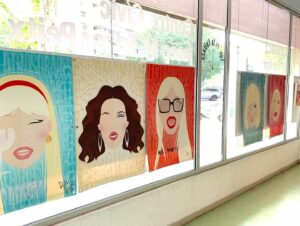 © Drag is Burning
Don't miss the best summer leisure plans in Barcelona and make the most of every day.