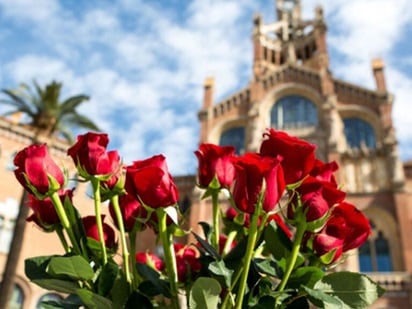 17 Apr

Sant Jordi in Barcelona: Valentine's Day in Catalan style

Find out why you'll want to be in Barcelona.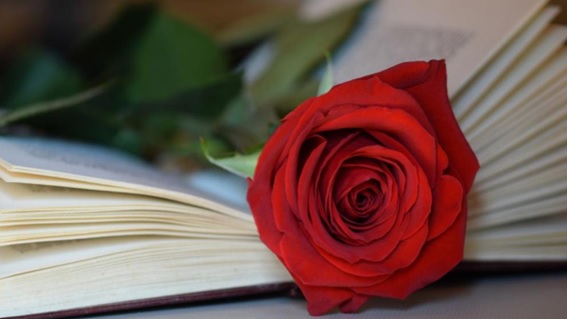 A rose as a manzetta bookmark – Getty Images/iStockphoto
The 23rd of April is La Diada de Sant Jordi or St. George's Day in Catalonia, known as the most romantic day of the year. Even more romantic than Valentine's Day. Authentic, festive and adored by the entire Catalan population, Sant Jordi combines love, culture and tradition. Let's explore the legend behind this popular celebration, the unique tradition of the rose and the book and how it is celebrated in Barcelona.
The legend of Sant Jordi
The story of Sant Jordi is a popular legend passed down from generation to generation. There are several versions of this story, but all of them include these four elements: a princess, a dragon, the brave Sant Jordi and a rose. It is a fairy tale with different themes such as chivalry, honour, bravery, romance and love.
According to legend, in the region of Montblanc (near Tarragona), a dragon terrorised a small village and its inhabitants, to appease him, began to feed him, even killing their own animals. When they no longer had any animals, they decided to hold a periodic raffle in which all the inhabitants of the village, including the royal family, were obliged to take part. One day the princess was "chosen" to be sacrificed, but just as the dragon was about to devour her, the brave Sant Jordi appeared on his white horse and saved her by slaying the dragon with his sword. From the dragon's blood a beautiful red rose blossomed and Sant Jordi gave it to the princess as a symbol of his love and admiration.
The tradition of the rose and the book
Traditionally and since the 15th century, it has been a tradition for Catalan men to give a red rose to their Dulcinea on 23 April, which is why this festival is also the festival of lovers in Catalonia. The roses usually come with a small message saying "t'estimo", which means "I love you" in Catalan. For some years now, it has become a tradition for Catalan women to give a book to their lover. But the tradition has changed and it is not unusual to give both men and women a book and a rose.
Giving a rose as a present has its origins in the Middle Ages, when men gave a rose to their lovers, while giving a book as a present is a much more modern tradition, since it began in 1926, when Vincent Clavel, a Valencian writer and publisher who lived in Barcelona, promoted this initiative. Nowadays, and since 1930, La Diada de Sant Jordi has also been celebrated as International Book Day, a date that commemorates the death of two emblematic writers: Shakespeare and Cervantes, who died on 23 April 1616. If you are in Barcelona on 23 April, take part in the great Catalan tradition and be sure to buy a rose or a book for your partner. Barcelona is transformed into an open-air bookshop, you can find book stalls all over the city, especially Las Ramblas, which are filled with stalls and markets selling new and second-hand books on this day. Take the opportunity to give a book about Barcelona as a gift. You can also buy roses all over the city, often sold by charities. In any case, you'll find that many restaurants offer special Sant Jordi offers, including candlelit dinners!
Where to enjoy La Diada de Sant Jordi in Barcelona
The roses of Casa Batlló
On La Diada de Sant Jordi, the balconies of Casa Batlló are dressed with red roses to celebrate this special day, creating a unique visual spectacle. Inside the building, you will be able to admire the inner courtyard, which will be flooded with petals, adding magic and romance to the place.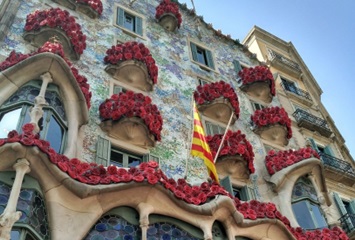 Casa Batlló decorated with roses during Saint George's Day, Barcelona – Pixabay 
2. A walk along the Ramblas
Las Ramblas becomes an epicentre of love and romance among the locals. Visit the rose and book stalls and stroll among the decorations on this special day! Most importantly, open your eyes to the hunt for writers – you'll have the unique experience of getting your favourite writers to sign autographs in the middle of the street.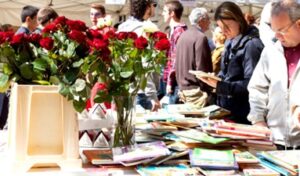 3. Open House Day for Sant Jordi
Coinciding with La Diada de Sant Jordi, many of the city's emblematic buildings and museums open their doors to the public for free all day long. The best time to discover Barcelona on its most romantic day. The Palau de la Generalitat, the City Hall, the Hospital Sant Pau or the Palau Güell are some of the buildings you can visit for free on 23 April. Don't miss the opportunity to visit these incredible buildings. The best thing to do is to get information beforehand through their website or networks and go and visit the one you like the most.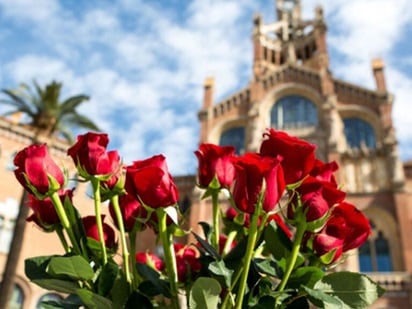 The Sant Pau Art Nouveau Site with Sant Jordi roses – RECINTO MODERNISTA SANT PAU
4. Sant Jordi Musical, at the Old Estrella Damm Factory
If you're a fan of live local music and want to enjoy a great atmosphere, head to the Antigua Fábrica Estrella Damm. On 22 and 23 April, a free music day will be held here, including concerts, record signings and books, roses and vinyl market. Don't miss it!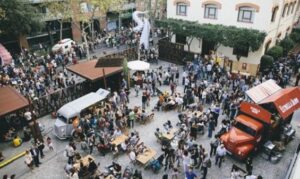 Attendees of the 'Sant Jordi Musical' in a previous edition at the Old Estrella Damm Factory / CEDIDA
5. A getaway in the village of Montblanc
The modernist writer Joan Amades placed the battle between the dreaded dragon and Sant Jordi in the Tarragona town of Montblanc in front of its walls. So if you are a lover of the Middle Ages or simply if you want to relive the legend, don't hesitate to visit this place in Conca de Barberà. In addition to strolling around the village and visiting its preserved medieval centre, you can also take part in the activities organised for its "Medieval Week of the Legend of Sant Jordi", from 21 April to 1 May. Among the scheduled events will be a wine and cava market and, of course, a theatrical version of the legend of the dragon. Don't forget to buy your tickets in advance if you want to attend one of the most emblematic activities!
To get to the village of Montblanc by car takes about 1 hour.  How to get there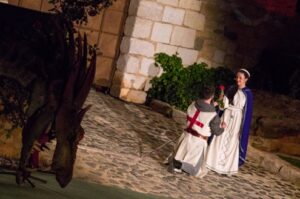 © José Carlos León – 2018
These are some of our favourite plans in Barcelona to enjoy Sant Jordi, but we invite you to continue strolling around the city on this beautiful day, and we're sure you'll discover many more.
¡Feliz Diada de Sant Jordi!